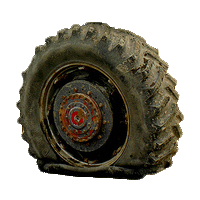 Do you run an equipment rental company?
Do know how much each flat tire is costing you?
Are you having your customers pay for flats?
Your main cost is unseen!  That is…poor service to your customers!  Flat tires waste your time and your customers time.
As for the direct monetary cost of one flat…
Typical Cost for Non-Ballasted Tire Flat (11×16)
Average number of hours of downtime per flat.  2 hours.
Average equipment rental rate per day.  $300/day = $37.50/hr.
Average tire repair cost per occurrence.  $75.
Average down time cost per hour.  $50-$200.
Average total cost/flat is 75 + 75 + 300 (using $150/hr downtime cost) =
$450.00 per flat.
The Flat Stopper is a effective tire sealant that will pay for itself almost immediately.
 Call us to find out more at 702-573-5288.